Summer Clothes for Larger Busts
Many of you loved our feature last fall featuring clothes (in particular, the elusive button down shirt!) for larger bust sizes. Today we're back with great summer clothes you can wear if you're bigger up top. We searched high and low for a great variety but if there's something you're looking for or something you've found and already love, we'd love to hear! Leave it in the comments below.
A maxi with a forgiving top and balancing bottom is this Rory Becca V-neck slit maxi. They can be found on Shopbop for $138. We love both colors!
 A high-quality, fitted tank that won't stretch or cling. With a great bra, this is a summer go-to and is available on Net-a-porter for $85.
With flouncy sleeves and a steep V-neck plus luxe fabric and a great cut, this next top is perfect with white skinny jeans, dark blue jeans and pumps or any color of capris you can come up with. Check it out here on ShopBop for $275, a splurge but worth it since it's an all-season buy.
We understand. This is the toughest time of year for ladies with larger bust sizes. Strapless dresses, bare shoulders and skimpy materials make it tough when you need a more supportive bra.
Here are a few options that can help!
Spanx makes this full coverage strapless bra that stays in place significantly better than some of the competitors. Instead of dipping in the middle to form cups, it provides coverage and support across. Click here to find it for $78.
 If your aversion to going strapless is beyond even what Spanx could fix, check out a strapless bustier or a strapless slip like this one from Naomi and Nicole for $58 at Macys.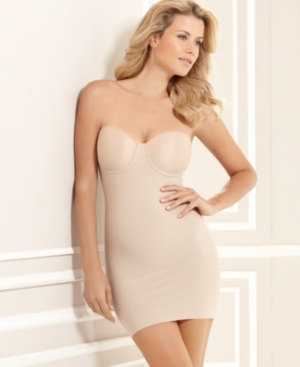 Do you have a strapless bra or go-to top in the summer? Leave it in the comments! xoxo