Online on a Budget
It's easy to get carried away online shopping. Things are often on sale, free shipping is thrown in when you hit $150 and there's so much to choose from! Who here has filled up your imaginary online shopping cart only to discover you weren't quite willing to sacrifice wine night with the ladies, rent or shopping for the next 100 days in order to check out?
In today's blog post, we're going to try something new. Since it's November 1 and getting nothing but colder, we're going to put together a winter wardrobe on a budget.
See what we can do with only $500!
The bottoms:
The Banana Republic Sloan fit, flared pant for $80. You've seen these pants on eStyle before! They are a go-to basic, black pant.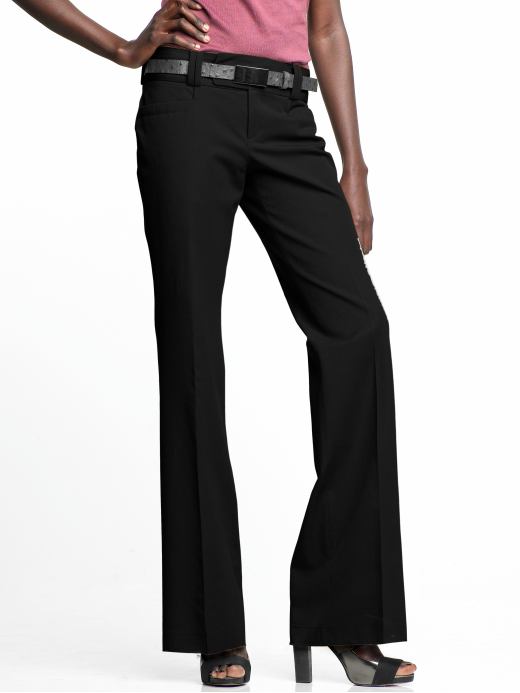 Houndstooth JCrew bell skirt, on sale for $80 from $130!
Lucky Brand, dark wash flared jeans. Some of our favorite jeans of all time to wear with heels for $70.
Okay, $80 pants + $80 skirt + $70 jeans = $230 on the pants.
Let's get started on the tops:
Romantic, but professional cardigan from ModCloth for $42. Would match the black pants or the jeans. Since you can wear a brown, cream, black or grey top underneath, you have a very versatile cardigan.
And for some beautiful color in your winter wardrobe, check out this BCBG top for $90 on Bluefly.
With these two tops and three pairs of pants, we're nearing $350 on our budget. Add one of the pairs of boots below and you'll be at $500 and have a HUGE variety of combinations to wear this winter!
Michael Kors booties that  match all three pairs of pants for $165 on Zappos:
OR, if you're not a bootie-wearer, these tall, black riding boots from Ciao Bella are a great choice with the JCrew skirt:
Simple, classic style and $500 for 6 items that create more than 8 (that's how many we found before we figured we were good to go) outfits. What deals and steals do you love? Tweet us @estylechat.